Reviews Rating
Welcome to Fouracres of Thorney
Welcome to Fouracres of Thorney. Specialising in used 4x4's and pickups, we are based on the outskirts of Peterborough in the historic village of Thorney.
We are a family run business with over 40 years of experience in the motor industry, stocking a large range of predominantly double cab pick up's and 4x4 vehicles.
We pride ourselves on providing unbeatable customer service. We work hard to ensure that every one of our customers has a fantastic experience with us. As such we work on a no-pressure selling policy as we believe the quality of our vehicles should sell themselves.
Alongside sales, we are also able to offer a wide range of accessories for your vehicle. Whether that is a lockable roll-top cover or alloy wheels and tyres, at Fouracres, you can make your vehicle personal to you. In addition, we can also source any vehicle to meet your requirements, so even if you don't see the vehicle you are after, why not give us a call. We'd be happy to help you.
Above all, we strive to give you the best service possible and as most people put in their feedback comments, "It's nice not to be pressured and we feel very relaxed about buying from Fouracres". The Fouracres team look forward to meeting you.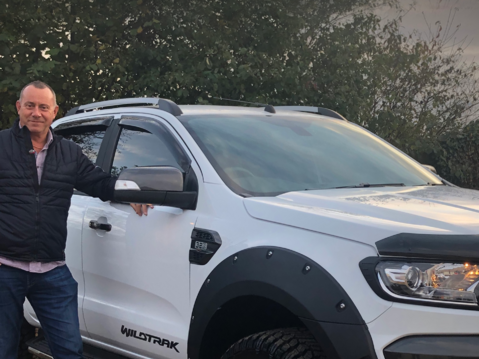 5 out of 5 stars - Honest reliable dealer. Had a good experience and would defo call them again if looking for a Ranger

5 out of 5 stars - Honest reliable dealer. Had a good experience and would defo call them again if looking for a Ranger

Honest reliable dealer,

Ford Ranger

Exemplary I came to this business as I felt from what I read they were very professional. From the beginning I have found them to be very helpful as well as friendly. (Exemplary)I would certainly recommend them to anyone. ... Read More

Exemplary
I came to this business as I felt from what I read they were very professional. From the beginning I have found them to be very helpful as well as friendly. (Exemplary)
I would certainly recommend them to anyone.

Great customer service Warm & friendly went above and beyond. Thanks so much ... Read More

Great customer service
Warm & friendly went above and beyond. Thanks so much

Great customer service.,

VW Beetle convertible.

Top class dealer - definitely will come back again! Great response and service! Car being prepared on time, 3 months free warranty given!     ... Read More

Top class dealer - definitely will come back again!
Great response and service! Car being prepared on time, 3 months free warranty given!

Top class dealer ,

Ford Ranger.

Very good service,

Ford Ranger.

5 out of 5 stars - I couldn't have asked for more. What a fantastic service both Jerry and Venessa provide. If your looking for knowledge of a Ranger look no further as Jerry is your man. Excellent…

5 out of 5 stars - I couldn't have asked for more. What a fantastic service both Jerry and Venessa provide. If your looking for knowledge of a Ranger look no further as Jerry is your man. Excellent…

I couldn't have asked for more.,

Ford Ranger

Found a lovely car here, suits me to a tee! Smooth and efficient transaction, highly recommend!..

Found a lovely car here, suits me to a tee! Smooth and efficient transaction, highly recommend!..

Highly recommend!,

Mercedes

 Really pleased with the service I received from Jerry & Vanessa. Made the whole process of purchasing my new pickup so easy. Communication prior to collection was second to none. Would highly recommend. Thank you

Really pleased with the service I received from Jerry & Vanessa. Made the whole process of purchasing my new pickup so easy. Communication prior to collection was second to none. Would highly recommend. Thank you

Really pleased with the service I received from Jerry & Vanessa.

Good selection and great knowledge of products,

Ford Ranger 2.0Bi Turbo

Great to deal with,

Landrover Discovery